The Benefits of Adopting a Unified Cyber Risk Lifecycle Across Your Attack Surface
Mar 10, 2023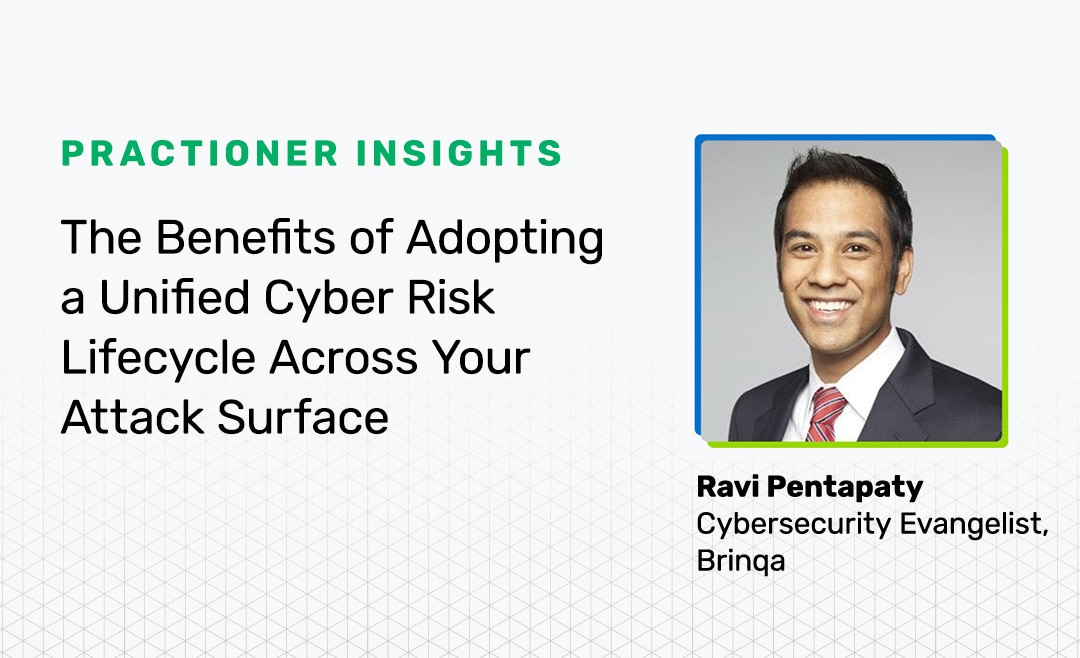 Over the last five years, most organizations have seen their exploitable attack surface grow dramatically as new processes — such as cloud-native software development — fast become mainstream. 
These changes have led to an explosion of new tools used to build cloud-native software and new security tools needed to scan that software (and the cloud infrastructure on which it resides) to identify vulnerabilities. Some of this vulnerability growth is the evolution of well-known threats, but it also reflects the emerging threats attackers continuously unleash in their relentless efforts to compromise businesses (such as leveraging hard-coded secrets stored in software to gain access to compute environments, APIs, etc.).
Meanwhile, in addition to all their new cloud-related work, security teams must continue to manage the vulnerabilities they already know about from all of the systems running on their organization's on-prem infrastructure. This is driving many security teams to adopt a unified cyber risk lifecycle across their attack surface to better manage these challenges.
What is the cyber risk lifecycle?
The cyber risk lifecycle is the process of managing cyber risks (i.e., vulnerabilities and other security findings) across infrastructure, application, and cloud security. Adopting a unified cyber risk lifecycle across your attack surface helps organizations operate more efficiently, reduce risk, decrease unnecessary business interruptions, gain credibility with key stakeholders, eliminate redundancies, and make better business decisions.
The cyber risk lifecycle has four main stages:
Asset inventory

Risk prioritization

Automated remediation

Posture management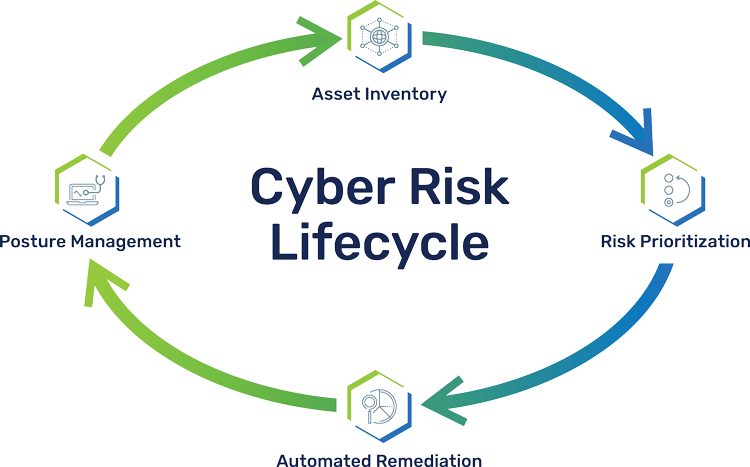 The connection between stages is crucial. If you don't know an asset exists, you can't prioritize its vulnerabilities (stage 2). Automating and standardizing remediation makes measuring and tracking risk reduction much easier (stage 4). Focusing on just one area of the cyber risk lifecycle will — at best — result in only partially effective security.
The importance of unifying the cyber risk lifecycle across security programs
Facing a continuously growing attack surface, security teams must holistically consider the cyber risk lifecycle across security programs. That's because the best vulnerability management programs span multiple security programs, including traditional on-premises infrastructure scanning, application security, cloud security, and more. 
Doing so ensures you are addressing — enterprise-wide — the most significant risks to your business.
Asset Inventory
An asset inventory is a current list of an organization's IT and development assets that aid business processes and software development. It spans servers, workstations, code repositories, and much more.
These assets constitute your business's attack surface. Each asset can be associated with an array of vulnerabilities that can potentially disrupt your business. An asset inventory that is incomplete, outdated, or otherwise inaccurate will drastically impair your ability to effectively identify, prioritize and remediate vulnerabilities later in the cyber risk lifecycle.
Security teams face the harsh reality that their attack surface (i.e., the number of assets) has expanded rapidly due to cloud migrations and digital transformation. They can't protect what they can't see or effectively prioritize vulnerabilities without understanding the relationships between assets and their business role/importance. And teams struggle during the remediation phase of the cyber risk lifecycle when trying to identify the asset owners to whom they will assign remediation tickets.
A centralized asset inventory with consolidated records using various data sources such as CMDBs and continuously updated security scanners builds a solid foundation to help security teams understand assets, their vulnerabilities, and security coverage gaps.
Risk Prioritization
No security team can address all the risks and vulnerabilities within their business. That's why vulnerability management teams adopt a risk-based approach to identify and prioritize vulnerabilities based on their potential risk to the organization.
A risk-based approach solves two critical business problems:
Cutting costs associated with remediating security findings

Reducing the risk of breach
There is a cost associated with remediating security findings, so businesses must invest their limited resources wisely to resolve the security issues that matter most. Development or IT staff must focus on applying patches and implementing fixes to high-priority issues for the assets they own. Downtime occurs when patch installation requires systems to be shut down and restarted. And we can't forget the opportunity cost to the business when developers spend time addressing vulnerabilities rather than coding new business-enabling apps.  
The problem doesn't stop there, either. In addition to incurring these costs, remediating lower-risk (rather than higher-risk) issues means the more significant issues are still out there threatening your business.
Identifying the risks that matter most to your business requires:
A strong foundation of attack surface visibility

A centralized view of vulnerabilities spanning security programs

A risk score tailored to the needs of your business that considers the business context and threat intelligence related to each security finding
Automated Remediation
From the vulnerability management perspective, automated remediation refers to automatically creating and assigning remediation actions for a prioritized vulnerability to the right owner — in the workflow tools they leverage daily. It also includes tracking the remediation status and reporting on the progress at both the individual vulnerability level and the asset's business process. That prioritization also applies to SLAs for patching risks, which vary depending on the severity of the security finding and tracking adherence to and notifying about SLA violations.
It's imperative to automate this process, so security experts can focus on reducing risk for the business instead of performing rote, manual assignment of actual remediation actions. Overall, this approach helps security teams reduce more risk, save time, and minimize business disruption.
Remediation actions are at the intersection of people and technology. On the people side, security teams must hand off activities associated with issues found in their tools to other technical teams (e.g., IT and development). Security teams must provide sufficient context around the business needs and functional requirements of the issues they find so technical teams can remediate them. On the other side, those technical teams want to use the tools they are familiar with (e,g., ITSM tools such as Jira and ServiceNow) to do their work.
This means it's essential to automate the creation of these requests in the ITSM tools used by other technical teams and close the loop to track if/when fixes have been implemented.
Posture Management
Strong posture management stems from proactively and continuously monitoring risk and reporting it in language the business understands, which motivates them to act.
Your efforts to improve asset visibility, prioritize the risks that matter most, and create an automated remediation process can be hamstrung by an inability to effectively communicate these risks with the business.
By spanning vulnerabilities from security programs, creating a comprehensive asset inventory, and tracking SLAs by syncing with ITSM tools — all from a centralized perspective — you create a single source of truth about cyber risk for your business. With this in place, the right dashboards and reports can help elevate your security conversations to the business level (all without losing the necessary granularity and detail technology teams need to fix issues). Instead of simply scoring vulnerabilities, you can score the teams and business applications themselves, which leads to the gamification of security improvement throughout the business. Strong posture management stemming from a unified cyber risk lifecycle helps you transform security teams into trusted advisors who motivate, enable and hold business owners accountable.
Why are security teams adopting a unified cyber risk lifecycle?
Employing a standardized approach to managing cyber risks across your organization's attack surface leads to enhanced efficiency, reduced risks, minimized business disruptions, increased credibility, less manual work, and better-informed decision-making.
If you're adopting a unified cyber risk lifecycle or looking for help to get started, check out what the Brinqa platform delivers. Brinqa helps businesses automate each stage of the cyber risk lifecycle. From scheduling data collection to creating remediation timetables and producing reports, Brinqa empowers you to create the right cyber risk lifecycle for your business.
Related resources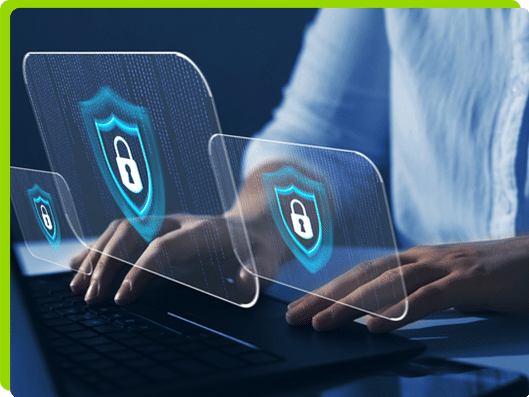 What is the Role of Cybersecurity in your Enterprise?
Learn More